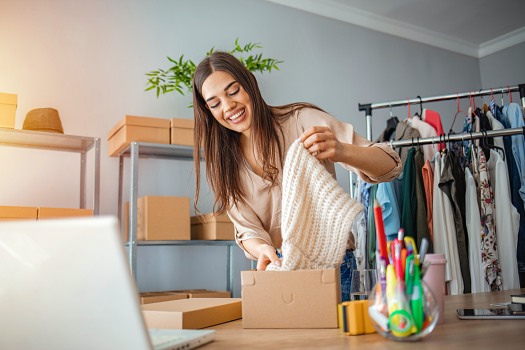 Selling in online resale platforms and consignment stores is a great way to net some extra money as well as get rid of rarely- or never-used clothing. As of publication, resale platforms are especially popular – in the times of COVID-19, many people are turning to resale shops to save big on clothing, so you're in the market for a good side hustle. Want to get some extra cash? Read on for the best websites to sell clothes online.
1. ThredUp
Although many online consignment stores are geared towards luxury items, ThredUp features more regular clothing you might find in your in your local Old Navy or J. Crew. The company allows you to get paid for new or lightly used clothes.
If you want to sell, ThredUp will send you a bag, with postage pre-paid, to fill with whatever you want to be considered by the company. (There's a catch, though: clothing items cannot show evidence of wear, alterations, or damage.) ThredUp then prices the goods, looking at the brand, style, quality, and sensationality in order to determine the value of each item. In the majority of cases, sellers will have the opportunity to adjust the price. Some items in your bag may not be accepted and either returned to you for a $10.99 shipping fee at your request, or resold or recycled by ThredUp. If you'd like to get a general idea in advance how much your items will be sold for, ThredUp offers an estimator on their website.
2. The RealReal
The RealReal is recommended to aspiring sellers owning luxury items from brands like Burbery and Chanel.
The RealReal works similarly to ThredUp, in that sellers from all over the country can request a bag with pre-paid postage to be sent to their home. The RealReal also offers in-home pickup and consignment offices in locations listed on their website.
In-house experts first confirm that the goods are authentic. Then, sellers get placed on a sliding scale for commissions: top consignors with over $10,000 in annual sales get a 70% commission, plus other perks such as priority processing, while those with sales of less than $1,500 get a 55% commission. Sellers with sales from $1,501 to $9,999 get a 60% commission.
3. Poshmark
Do you have clothes from brands like Forever 21, Under Armour, Adidas, and Levi's? Poshmark is ideal for the everyday, offering women's, men's, and children's clothing from a variety of accessible brands. Celebrities like DJ Khaled and Serena Williams have even used Poshmark to raise money for charity.
Poshmark differs from other popular online consignment shops in that sellers manage their listings, deciding upon the price figure, photo, and description themselves. Poshmark also makes all sales final by not accepting returns, thereby protecting you as a seller.
The best part of Poshmark, however, might be the fact that sellers keep more of the money earned from sales than they would through a traditional consignment shop. Poshmark charges a flat fee of $2.95 for items sold for less than $15, and keeps 20% per sale of items $15 or more.
Whenever an item is sold via Poshmark, the company mails you a pre-paid, pre-addressed shipping label with which you can send your clothes to the buyer. Poshmark's program called Posh Authenticate ships all goods priced at $500 or more to the Poshmark HQ to be inspected for authenticity before being sent to the buyer.